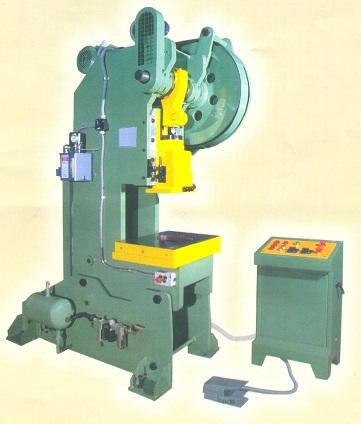 click on picture to zoom
share this product link
Models :
Single Geared

Non-geared
Inclinable
Non-inclinable
Fixed Inclined Models
Salient Features :
Left To Right Series :
Range : 10/100 Tonnes in single geared, non-geared, inclinable, non-inclinable or fixed inclined models.
Design Features :
Frame : Rigid, welded, one-piece construction made from tested fusion welding quality steel ensures minimum deflection and vibration thus improving die and machine life.

Main Shaft and Bearings : Normalized medium carbon steel shaft, ground finished on bearing surfaces and heavy walled Nickel Phosphor bearings with hand scaped bores keep bearing pressures low and ensure long working life.

Side and Guides :

Cast Iron slides running in two extra long guides lined with high quality non-metallic liners eliminate slide deflection. Hand scraped bearing surfaces provide smooth movement of slide square to the table resulting in highly accurate press work and extended die life.

Electrical Controls : Easy to see, easy to use main control station with controls for power ON/OFF, START ? STOP once 'inch' continuous, semi continuous clutch mode selection and clutch on operation with emergency stop simplifies operation greatly. Control supply 230 V, 50 Hz.
Lubrication : Motorised lubricator provides pressurized metered amount of oil to all important points.
Clutch and Brake : Pneumatically operated clutch-brake combination developed specially for speed operation eliminates overlapping of torque, gives faster action and reduces lining wear to the minimum.
Other standard features : Conveniently located and effortlessly adjustable slide adjustment mechanism. Stroke adjustment facility in several steps for flexibility in use, standard Boister, General purpose motor 415V, 3Ø, 50 Hz for presses less than 100T capacity.
Standard equipment with machine : Flywheel and gear guards, bar ejector on slide, air filter, lubricator, regulator, cam limit switch, motorized lubrication system.