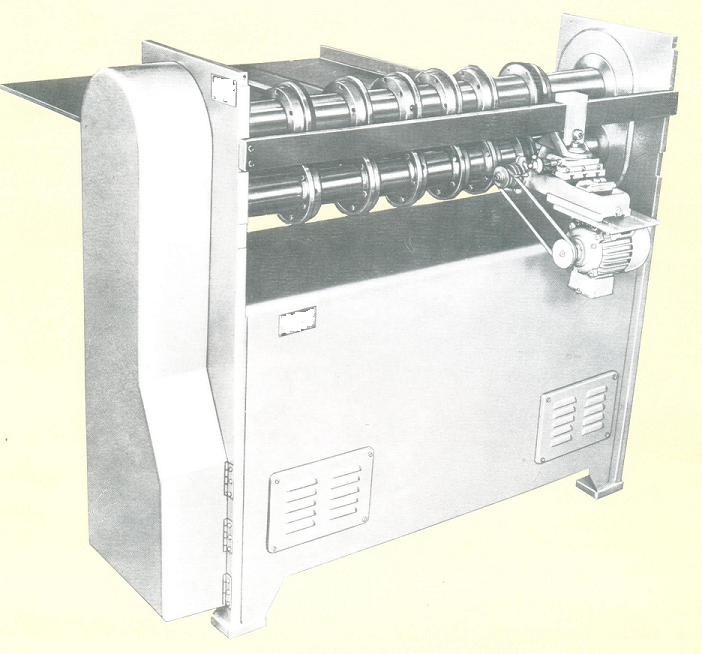 click on picture to zoom
share this product link
GANG SLITTER (SINGLE) MODEL GS-1.
Salient Features :
1. Operation :
For slitting of tinplates into strips by rotary action of knives (cutters). Feeding is manual. Sheets one by one is to be placed on the feed table and to be pushed into the cutters with one side of the sheet all the time touching the side ledge which is preset at right angles to the cutter shafts.
2. Change over and Setting :
Cutters are mounted on specially designed holders which can slide on the cutter shaft to desired position. For firmly gripping to the cutter shafts, the holders are provided with gripper rings which can be tighted with screws provided for the purpose. The provision of gripper rings eliminates the screws coming in contact with the cutter shafts and thereby chances of damage to cutters is avoided. Precisely manufactured cutter shafts, holders and cutters permit quick change over for different strip widths.
3. Machine Construction :
Main body : M. S. fabricated in one piece construction. All bores and other machining carried out on precision horizontal boring machine.
Free Table : Feed table made of cast iron is machined to have smooth finish firmly fitted to the main body.
Drive : All drive shafts mounted on taper roller bearings Gears are helical of strong design and manufactured by hobbing process.
Cutter Shafts : For long life cutter shafts are hardchrome plated and precisely ground to very close tolerances.
Cutters : Cutters are made of HCHC steel hardened and ground to close tolerances and concentricity.
Grinding Attachment : Machine is provided with grinding attachment at extra cost. With this attachment it is possible to grind the cutter faces on the machine itself for periodical sharpening.
4. Specifications :
Range of sheet size - 950 mm X 950 mm

Maximum Sheet thickness - 0.30 mm

Main Motor - 1 HP, 905 RPM, 3 Phase, 50 Cycles, 440 Volts

Motor for grinding attachment - 0.5 HP, 2800 RPM, 3 Phase, 50 Cycles, 440 Volts.

Overall Dimensions - Main Body : 1400 X 1190 X 380mm , Feed Table : 1190 X 760 mm


Net Weight - 730 Kgs.

Gross Weight - 810 Kgs.

Standard accessories fitted on the Machine - Motor, Push button, Starter, V-belt, 6 pairs of cutters and holders 1 Pair of rubberised gripper rings.