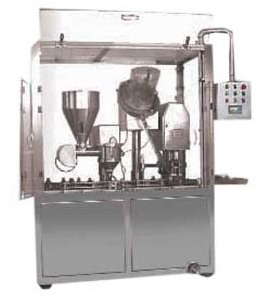 click on picture to zoom
share this product link
The Automatic Dry Powder Filling with ROPP/Screw/CRC Capping Machine is a combination of Auger type Powder Filling with Capping machine. It is available in 2 models i.e.
Single Head Powder Filling with single Head ROPP /Screw /CRC Capping Machine – Monoblock
Twin Head Powder Filling with Four Head ROPP/Screw/CRC Capping machine.
The machine is compact and confirms to the camp requirements. The process ensures contamination free filling as the bottles are capped and sealed immediately which avoids exposure of the powder. The design of the machine is such that it enables easy change over and facilitates easy cleaning.
Salient Features :
Auger Type Filling.

Servo Motor with PLC for precise fill weight.
Preset revolution control with digital display for quick setting of fill weight.
Weight variation within + 2%.
Automatic powder level maintaining system for maintaining constant level of powder to facilitate minimum weight variation.
" No bottle – No Fill" arrangement to avoid spillage of powder and " No bottle – No cap" system.
Production counter for estimation of exact production at the end of the shift / day.
Programmable Logic Control (PLC) and HMI with display and hooter system to identify fault or malfunctioning of the machine.
For optimum output, the interchangeable parts in following weight combinations are supplied as per the client's requirements:
3gm-5gm ; 5gm -15gm;
15gm-30gm ; 30gm-50gm;
50gm-75gm ; 75gm-100gm
All powder contact parts in SS 316 / SS 316L.
Safety hood to prevent flying glass particles in case of bottle breakage.
Vibratory cap feeder to suit all types of caps.