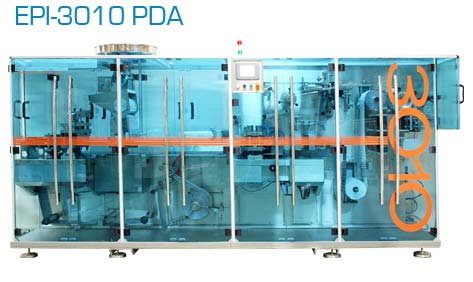 click on picture to zoom
share this product link
Quick change over, versatile, flat bed machine for thermo-formed and cold-formed blisters.
SALIENT FEATURES :
Servo-Driven independent stations controlled by full function intelligent high speed PLC
User-friendly touch screen MMI with recipe setting and product library functions for quick change over.
Separate punch, perforation and embossing stations
Listing of alarms and user friendly troubleshooting guide integrated
Compatible for downstream automation.
Edge-To-Edge print registration control
Setting of index and cold forming depth on MMI
Easy slide-in Tools for punch, embossing, perforation.
OPTIONAL FEATURES :
In Hole Detection System
Non-Fill Camera System
Inkjet Printing System
Splice Detection
MACHINE SPEED : 40 CYCLE / MIN
TECHNICAL SPECIFICATIONS:
MODEL

PI-3010

MAX. FOIL WIDTH

300 MM.

MAX. FORMING

ADVANCE

100 MM.

FORMAT AREA

284 MM X 92 MM.

SPEED

UP TO 40 CYCLES/MINUTE

(THERMO-FORMING).

UP TO 35 CYCLES/MINUTE

(COLD-FORMING).

OUTPUT

UP TO 240 BLISTER / MINUTE.

PUNCH CYCLES

UP TO 120 PER MINUTE.

MAX. FORMING DEPTH

14 MM.

MAX. PACK LENGTH

ALONG WEB

100 MM.

MIN. PACK LENGTH

ALONG WEB

26 MM.

BASE FILM THERMOFORMABLE

PVC,PVC WITH PE/PVDC,COC,ACLAR,PET.

COLD FORMING

TRI-LAMINATED ALUMINIUM.

LIDDING FOIL

HEAT SEALABLE LUMINIUM

OR PAPER.

PRODUCT FEEDING

OSCILLATING FEEDER WITH

FEEDING CHANNEL.
UTILITES:
Air Consumption

250 LPM. Supply at 6 Bar

Cooling Water

200 Liters / Hr. at 140ºC

(Product / base film depending

Power

12 KW peak, 7 KW avg.
Shipping dimensions for basic machine
| | | |
| --- | --- | --- |
| L X W X H | Net Wt. | Gross Wt. |
| 170" x 50" x 80" | 1800 Kg | 2300 Kg |