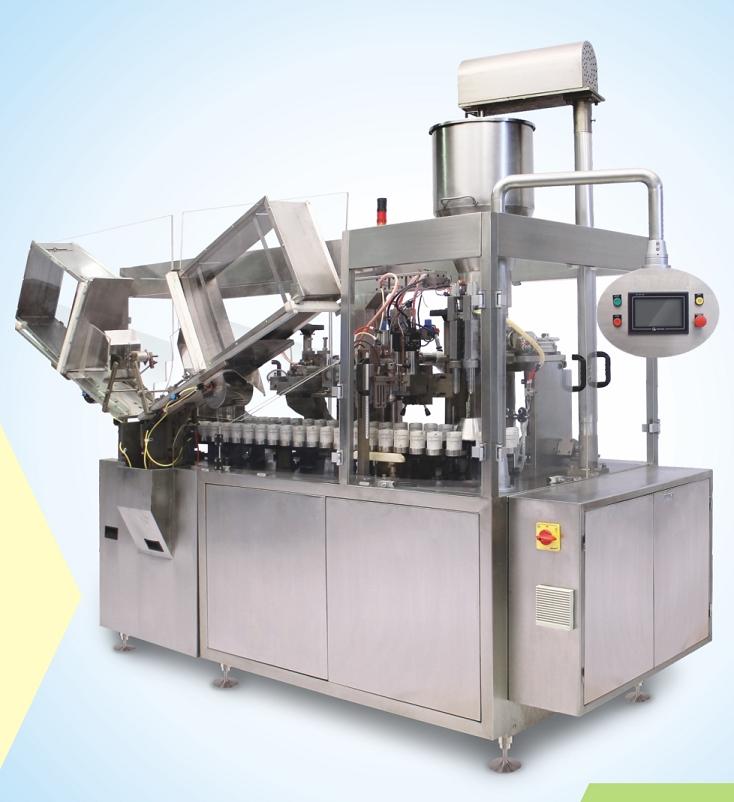 click on picture to zoom
share this product link
Tube Filling and Closing Machine 120 is a double head version of tube filling and closing machine provides output of up to 120 tubes per minute.
The machine is available in three models:
1. Aluminium Tubes
2. Laminated / Plastic Tube
3. Combination of Al. And Laminated Tubes.
In combination model the change over from Aluminium to laminated or vice a versa is done by snap of a button.
Due to robust design and good manufacturing practice the machine delivers best packaging quality standard and with minimal maintenance intervention the operating efficiency is also very high. Almost 100% repeat order stands testimony to our values and quality of machines.
Standard Features :
Technical Data :
Optimum speed : 120 U.P.M.
Filling volume : 5 to 200 ml
Dosing accuracy : +/- 1%
Tube length : 50-250 mm
Tube diameter : 10 to 40 mm
Power Consumption :
Basic machine (max) : 1.5 kw
Hot air sealing machine (max) : 7 Kw
Air Consumption :
Basic machine : 20 l.p.m @ 6 kg/cm
Hot air sealing machine : 300 l.pm. @ 6kg/cm
Optional Features :
Automatic tube in-feed unit

Tube orientation unit

Automatic tube cleaning device

Heated product hopper

Cream stirring device

50 mm dia tube sealing facility

Multicolour filling in any format

Profile sealing

Corner cutting

PLC based operation

Encoder

HMI with key pad

HMI with touch screen

Centralized lubrication system

In-feed system for oval tube

Bar code reading system

Product level control

Exhaust collection of trim waste

Water Chiller
Chilled Water Consumption :
Basic machine : nil
Hot air sealing machine : 12 l.p.m of water at 10º C
Shipping Configuration :
Length : 2.3 meter
Width : 1.7 meter
Height : 2.0 meter
Weight : 1,500 kg.
For Other Models Please refer Ointment Section.