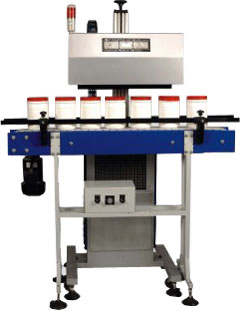 click on picture to zoom
share this product link
Online Induction Cap Sealing Machine has been developed especially with a view to meet the exacting needs of the packaging industry. The system's reliability is a expertise in inverter and sealing coil design. The combination allows manufacturers to seal containers efficiently at desired line speeds.
SPECIFICATIONS :
Input : 230± 10% V AC, 10 Amps, Single Phase
Max. Line Speed : 50 feet / minute
Cap Size : 20 mm - 120 mm
Net Wt./Packed Wt. : 120 Kg / 175 Kg
Dimensions (WxDxH) : 650 mm x 650 mm x 1650 mm
FEATURES :
1. Physical Design Features
Compact all-in-one design: Easily Movable : The machine is mounted on a wheel based water-cooling unit which provides mobility. Easy for line relocation.

Single Body, "on conveyor" mounting system

Front panel with easy to use membrane switches.


Coil movement Standard : 300 mm

Coil movement Special : As required by the customer.
2. Operational & Protection Design Features
Conveyor Stop System: The conveyor stops in certain predefined conditions such as:
No Bottle

Sealing Off

Bottle Jam
Over Load Protection & ALARMS
Over Voltage

Over Current

Spike & Surge

Over Temperature cut off
No effect of voltage fluctuation

Online Induction Cap Sealing Machine

is designed to operate with variations in mains input voltage from 170 V to 300 V AC.
ACCESSORIES :
This system has many optional value added accessories like:

Digital Position Indicator: This drive helps in online reading of the height of the coil and can provide consistent results and readings while induction sealing. This feature facilitates quick set up. No tools required.

No Foil Detector

Auto Stop System

Auto Start System

Bottle Jamming Detector

Total production / bottle co

unter
Conveyor Stop system