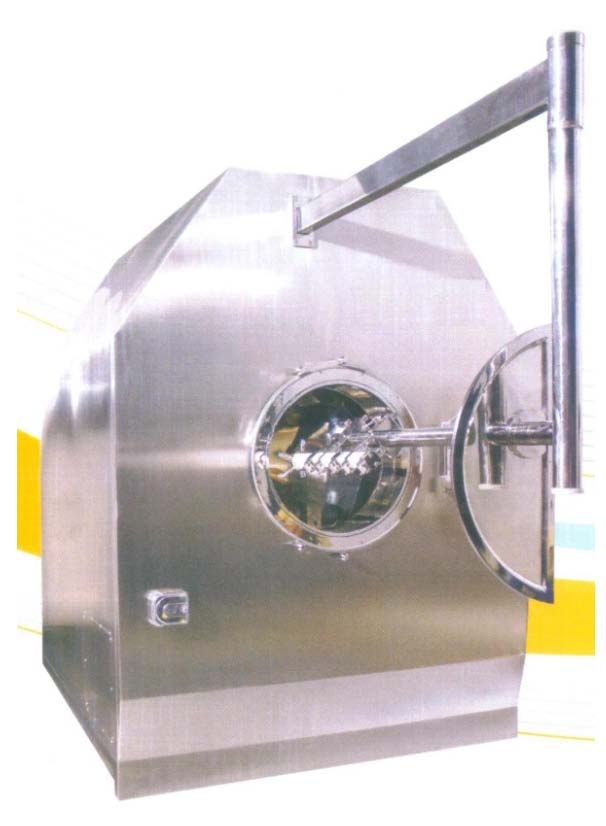 click on picture to zoom
share this product link
Newly designed solid wall coating equipment is the core of a modern solid dosage line which makes it possible to do uniform coating of film & sugar for tablets, pellets and micro granules. It enables to achieve coast saving production by reduced energy & solution consumption. This technology is developed and widely accepted in European countries.
POWDER DOSING TECHNOLOGY :
Unique Powder Dosing System allows enlargement and layering of pellets, tablets (if required by the formulation), micro tablets and micro granules by means of excipients or active ingredients in powder form. The system shall be screw type fitted with suitable gear motor. The whole system shall be controlled / operated through PLC / MMI and the speed shall be controlled through Variable Frequency Drive (VFD).
EQUIPMENT MANAGEMENT BY MEANS OF AUTOMATION:
According to customers requirement, we offer advanced automation by using advance programmable logic controller & touch screen graphical man machine interface to monitor process & control automation like air, distribution, temperature, humidity auto cleaning process, security by interlocking, auto loading & unloading and CIP / WIP.
The machine is design for Automatic System for product loading and unloading without damaging the product.
The ideal solution spraying facility for film and sugar coating of tablets and micro granules includes two separate spray pumps with quick changeover facility. Both the spray units are fitted in a sound proof cabinet.
FILM COATING :
Film Coating system comprising of chokeless, Spray Gun & compact Peristaltic Pump for constant flow rate.
SUGAR COATING :
Sugar Coating system comprising of airless Spray Gun, Pneumatic high pressure piston type pump with recirculation system
Single equipment can handle tablets, pellets & micro granules.

Pore less Pan for Film Coating and Sugar Coating helps in saving of coating material.

Multifunction system by means of constant and homogeneous one way air flow into the bed of cores.

Interchangeable ventilation system of inlet / outlet air duct connection.

Easily fitted or removable type spray guns both for sugar and film coating for quick calibration, adjustment & safe cleaning.

Air less sugar spraying system by using pneumatic high pressure piston type pump with spray gun and recirculation system.

Film spraying system with air by using low pressure type peristaltic pump.

User friendly operator interface by the means of touch screen MMI.

Specially designed Air Distributing System and the intake and exhaust pipes can be interchanged according to the process needs.

The different type of air paddles equipped for different material can be embedded into or taken off from the material.

Automatic tablet loading & unloading system to avoid contamination.

High efficiency, energy saving, safe, user friendly PLC base Controlled Technology.

Cost saving production by reduced energy and solution consumption.

The advance integrated fully automatic PLC programmed CIP system designed for fast & effective cleaning to avoid cross contamination.

System is having multi wash system like cold water, hot water, detergent wash and air purging. High-Pressure multi stage pump is provided to give desired pressure to water for effective cleaning with auto drain system.
TECHNICAL DATA :
MODEL

Technical Specification

SP - 150

SP - 350

SP - 500

SP - 600

Working Capacity* (Min-Max) LT.

70 - 150

150 - 300

250-400

300 -500

Pan Diameter ( MM)

1,280

1,580

1,630

1,630

Pan Mouth Diameter (MM)

450

520

520

600

Pan Motor Power (kW)

1.5

3

5.5

7.5

Process Air Delivery (M3 /H)

1,100

2,000

3,000

4000

Inlet Air Heating Capacity of Steam Unit at 3 Bar (KCAL/H)***

30,000

55,000

70,000

90,000

Steam Consumption (KG/H)

58

100

130

150

Power Consumption for Standard Equipment (kW)***

12

20

25

30