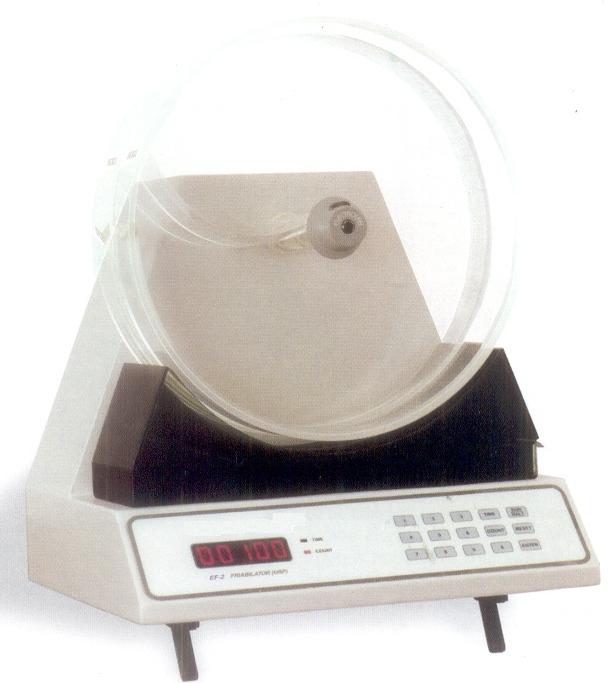 click on picture to zoom
share this product link
Features :
Programmable Counter / Timer

AD Drum™ (Automated Discharge) – meets USP requirements

Supports two AD drums

Front loading system

10º tilt facility
Microcontroller based EF-2 Friabilator is designed to meet USP, IP, Ph. EUR pharmacopoeia. EF-2 offers a counter and timer mode of operation. The unique design allows filling and auto discharging of test samples without opening or removing the drum from its axis. A 10I0; tilt is provided as per USP to avoid irregular tumbling caused by the shape or size of the tablets.
The unit supports AD Drum™ as well as "Abrasion" Drums. It has a unique front loading system, which allows upto two drums to be loaded simultaneously on the instrument. The drums are designed to positively engage with the derive to prevent any slippage. Single or double drums cab be held in position by a snap lock knob.
At the end of the test the samples are automatically discharged into their individual trays. After discharging the samples, the drum positions itself automatically for loading new samples. The drums are rotated by a maintenance free stepper motor drive with a constant speed of 25 RPM.
The test can be performed in tow different modes – Timer and Revolution Count. The Time duration and the Revolution Count are programmable. The values once programmed are retained in the memory of instrument. The microcontroller, self validates the revolution count.
EF-2 has a power failure detection facility. If the power fails during the test, the remaining test is completed when the power supply is resumed.
Standard Accessories :
Two AD drums, two trays, one knob and power cord
Specifications :
Speed : 25 RPM constant
Accuracy : + 1 RPM
Timer : 1 sec to 9 hrs. 59. Min. 59 sec.
Counter : 1 to 9999 revolutions
No of drums : Two
Drive System : 6 VDC, Stepper motor
Power : 220 / 230 VAC, 50 Hz,
20 W 100 / 110 V AC, 60 Hz (on request)
Weight : Nett – 12 Kgs Gross – 15 Kgs
Dimension : 350(W) x 3100(D) X 430(H) mm Approx