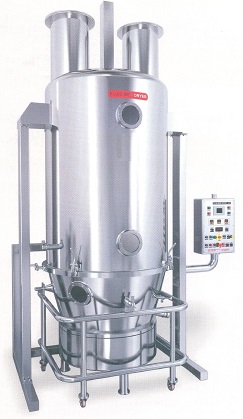 click on picture to zoom
share this product link
Fluid Bed Dryer is a widely used in pharmaceutical industry for highly efficient, dust free, fast, gentle & uniform,drying of granulated materials obtained from wet granulation.
Process concept :
The drying is achieved through a combination of moisture diffusion from the solid material to the heated air stream and the removal of that moisture by forced air convection. the product to be dried is transformed into low expanding fluidized bed with the aid of drying air added from below by means of specialized inlet air distributor. In this condition, the particles are isolated from one another and kept in constant motion. The high specific surface of the fluidized product helps great amounts of heat transfer.
A special effective air flow during fluidizations allows to pass through the entire surface of every single particle. FBD is manufactured for over pressure integrity using a unique sealing system for operator safety and product containment.
Fluid Bed Dryers are manufactured in various capacities and batch sizes. Batch size means the weight of wet product i. e. including moisture / solvent that can be charged in the dryer at a time. In case of very granular or crystalline material the capacity may be increased by about 15 to 20% . The capacity depends upon the material characteristic (i.e. Crystalline or amorphous), bulk density,Moisture content, hygroscopic nature etc.
We offer
Fluid Bed Dryers
of capacities 5 kgs to 300 Kgs.
Salient Features :
Optional features :
Fully automatic operation through programmable logic control

Provision of printer port

Electric / Steam / thermic fluid heating system

HEPA filter at inlet

Different pressure gauge HEPA filter

Material flow monitoring system ( Broken filter bag detector)

Inflatable tubes,

PLC automation control,

AC Variator for blower,

WIP / CIP system,

pneumatic damper on ducts,

police filter,

Scrubber on discharge,

chilling coil,

Top spray arrangement with holding tank and peristaltic pump,

FLP construction etc.
Technical Specifications:
Models

FBD 10

FBD 30

FBD 60

FBD 120

FBD 150

FBD 200

FBD 250

Working Capacity in kgs

5-10 kgs

30 kgs

60 kgs

120 kgs

150 kgs

200 kgs

250 kgs

Prod. container volume in ltrs

35 Ltrs

110 Ltrs

215 Ltrs

400 Ltrs

495 Ltrs

660 Ltrs

810 Ltrs

Batch Capacity in kgs

5-10

30-40

60-75

120-150

150-180

200-230

250-280

Blower Motor Rating in HP

3 HP

5 HP

10 HP

15 HP

20 HP

20 HP

25 HP

Stream Consumption Kgs/Hr

95

135

165

195

195

205

215

At Pressure Kgs/cm sq.

3.5

3.5

3.5

4.5

4.5

4.5

5.5

Heating Load in KW

12

18

36

54

54

Steam

Steam

Compressed Air Pressure

Kgs/cm sq.

2.5

4.5

4.5

4.5

4.5

5.5

5.5

Blower CFM

1500

2000

2500

3000

5100

6000

6000

Net Weight Kgs (Approx)

400

800

1050

1300

1500

1900

2200