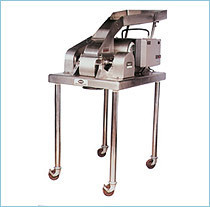 click on picture to zoom
share this product link
Working:
It consists of the box type chamber containing fixed blades which rotate at different speeds to break the material in to finer particle sizes. The product is input to the feed pan which takes it to the inlet and there by to the box type chamber. The chamber contains fixed rotor blades which rotate at designated speed to achieve the required particle size. The appropriate screen of the required mesh size is placed underneath allows the material sizes achieved to pass through and the rest are again ground till the come of specified size.
Optional Features :
Flame proof motor with electrical fittings

Castor wheels with brakes
Salient Features :
Sturdily built construction and its unique design meet the requirements of best pulverizing and granulation

The design of its comminuting mill speaks the glory of it by outdating the reversible comminuting chamber models which employs more manpower and risk to do the same. Chamber assembly and contact parts are made of SS 316/S.S. cladding.

Openable chamber wall and the blade loss with sixteen fixed blades

Shaft is provided with too many components on it and instead, the rotor acts as the driver with unique drive arrangement, which ensures less wear and tear resulting in easy maintenance.

Different types of meshes from 4 meshes to 200 meshes can be provided to suit the application

Machine is mounted on high quality S.S. pipes and castor wheels

The motor is mounted on solid hard chrome plated rails for easy movement by a hand wheel

The hopper with covers is mounted on the comminuting chamber to lead the product into the chamber

Steps are provided for proper mesh fitment and hence assure longer life

The control panel board mounted on the base plate is provided with star-delta starter for comminuting dual speed motor with proper protection.
Technical Specifications:
| | |
| --- | --- |
| Model | Comminuting Mill – 3000 |
| Rotor Speeds | 900/1800/2250/4500 RPM with sixteen fixed blades |
| Electric motor | 5.5 KW/7.5 HP , 440 V, 50 HZ, Two speed -1400/2800 RPM |
| Maximum Output* | 30 kg/hr to 1000 kg/hr |
| Machine size in mm | 765 × 1400 × 1650 |
| Net weight in Kg | 540 |
| Case size in mm | 1422 × 965 × 1651 |
| Gross weight in Kg | 750 |