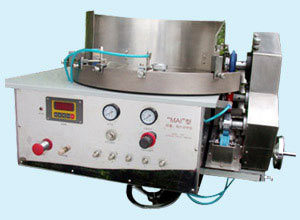 click on picture to zoom
share this product link
Automatic tablet printing machine can print characters on any tablets in any size and shape like round, ovals, triangular, hexagonal tablets. Feed disc & gravure rollers are available in any size in order to obtain most efficient production. It is compact in structure and easy to operate. Scrapping of excess ink on the printing roller is done on the pneumatic pressure or manually.
Product Specifications
Output Ø 3mm>80000 pills/h
Ø 6mm>60000 pills/h
Ø 12mm>50000 pills/h

Weight 150 Kg

Outer Size 910mm X 610mm X 640mm
Power Supply 220 V
Output 0.25 KW
Compressed air 40Psi.