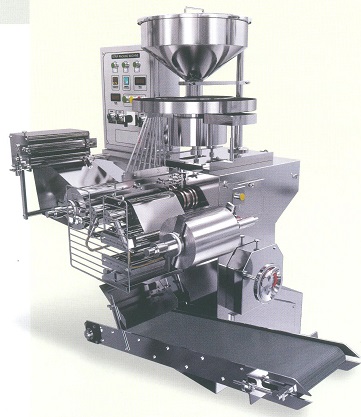 click on picture to zoom
share this product link
Packs a wide range of products in easily dispensable strips with economy and speed. With capacity up to 2400 strips per minute, its automatic trouble free operation meets exacting marketing market standards.
Capable of handle wide range for pharmaceuticals products namely, coated and uncoated Tablets, Hard gelatin capsules, Capsule shape coated and uncoated tablets, standard confectionary products etc.
Special Features:
GMP construction.

Models ranging from 2 tracks to 10 tracks, 40 mm to 300 mm sealing width. Take off conveyors of different sizes to convey strips to inspection and packing tablets.
Customised to different product sizes and shapes.
Machine suitable for different heat sealable packing laminates.
Temperature control by thermostat or digital temp. indicator and control panel manpower for operation.
Electrical motor suitable for 415 V/ 380 V/ 3 PH/ 50 CS/ AC Supply.
Technical Data:
MODELS

2 TRACK

4 TRACK

6 TRACK

8 TRACK

10 TRACK

CAPACITY TAB. PER MIN.

200-400

600-800

1000-1200

1600-1800

1800-2000

HEATING LOAD

KW

500W x2

750W x2

1000W x2

1000W x2

1000W x2