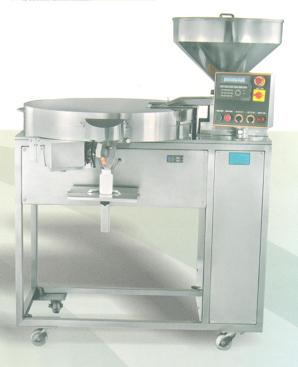 click on picture to zoom
share this product link
Semi Automatic capsules / tablets digital counting and filling machine is ideal for small / large scale pharmaceutical units. The machine is compact, occupies minimum space, simple to operate and easy to maintain.
Operation :
Filled capsules / tablets are fed into the hopper. The amplitude of vibration can be controlled to synchronize and achieve the required counting speed. The capsules / tablets move along the periphery and are aligned to enter the adjustable guide channel in single line along the track to pass through the beam of Photoelectric Fiber Optical Sensor / Scanner at the filling station. The photoelectric scanner counts the pre-determined quantity of the capsules / tablets and stops automatically until the next container is placed underneath the Filling nozzle. The machine is incorporated with two filling nozzles for continuous counting and filling.
One bottle is always in place for filling. The operator simply picks up a filled bottle and replaces it with an empty bottle. A No-Bottle-No-fill sensor is provided at the bottle holding station. Once the bottle is filled, the machine stops automatically.
Salient Features :
Product contact parts SS 304 / SS 316 / SS 316L quality (except rotary tablet ).

Photoelectric Fiber Optical Sensor / Scanner for sensing capsules / tablets.

Counting speed is adjustable through variable Frequency Drive.

Amplitude of vibrator is adjustable to meet counting speed.

Programmable Logic Control (PLC) system with HMI enables visual display of the operating parameters besides ensuring accuracy, reliability and reduced operator fatigue.

No change parts required.

Glass Rotary table.

No-bottle-no-fill arrangement.
OUTPUT (Approx)
Tablets – 1000 to 1800 per minute
Capsules – 1200 to 1500 per minute
TECHNICAL SPECOFOCATOPMS :
Main Drive :
0.25 HP, 220volt, 3 Phase, 50 Cycles, 1400 RPM
Overall Dimension :
1150mm (L) x 950mm (W) x 1600 mm (H)
Net Weight (Approx) : 1050 Kg.