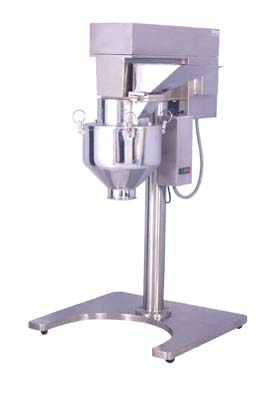 click on picture to zoom
share this product link
Self – Contained portable unit for wet and dry granulation pulverization and de- agglomeration of products. Flexibility to adopt to a wide range of materials to suitable for size reduction and granulation.
Wet and dry granulation of tablet processing material.
Special Features:
Machine rated for continues operation.

Higher out put with process uniformity.

All contact parts can easily be dismantle and cleaned for change of product.

Range of S.S. perforated or wire knitted screens available.

Different size of screen /speed / number of blade/direction of blade rotation can be selected.

Unique 360 screen for higher out put.

Additional perforated screen at the bottom of pulverizing chamber to eliminate higher percentage of fineness & control granule size more effectively and obtain higher outputs.

No expensive dust collection system required when used for pulverizing.

All contact parts of SS 304 AISI ( SS 316 Quality is optional )

All Parts can be easily dismantled for cleaning , washing & validation

AC variable drive for stepless speed controls Flame Proof Motor.

AC Variable Drive

Horizontal type Multimill



* OPTIONAL :- Lab model is available .
Technical Data:
Motor

3 HP / 1440 RPM / 415 V / 3 PH / 50CS / AC TEFC motor with reversible starter

Standard Speeds

750/1500/2100 & 3000 RPM achieved through step cone pulley

Blades

12 Swing blades with knife edge & edge, 2 scrapper blades to avoid settling of

material inside granulation chamber.

Screen Sizes

Perforated Screens in wide range from 0.5 mm DIA perforated holes upto 25.0 mm

DIA holes

Product Charging Height

1525 mm ( approx. ) from ground level.

Product Discharge Height

780 mm ( approx ) from ground level.

Net Weight

300 kgs.

Gross Weight

420 kgs.

Overall Dimension in mm

L 900 X W 900 X H 1700