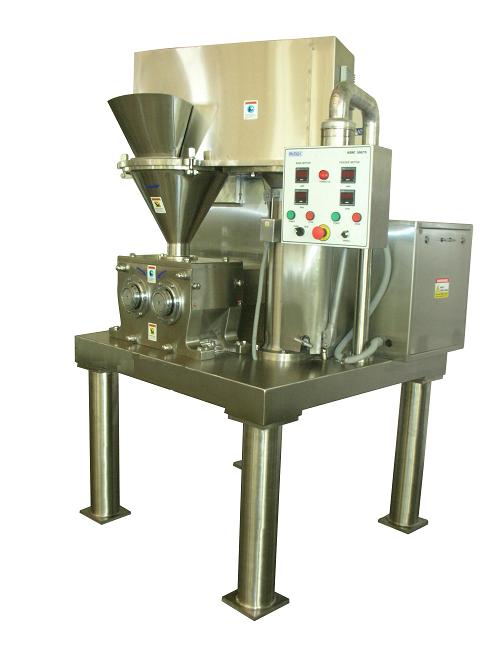 click on picture to zoom
share this product link
The process of compaction is used to increase the bulk density of fine powder particles. This is achieved by passing them between closely held rollers to form solid compact sheet. The compaction process can be affected by roll surface and diameter, peripheral speed, separating force or pressure capabilities, feed screw and basic compaction characteristics of the material being used. Powder material properties can be improved by addition of a suitable binder, which facilitates better bonding between particles and keeps the production of fines to the minimum.
Salient Features :
Design conformance to cGMP

Very compact design available in Plain Model

Feeder Screw is driven through AC variable drive & Safety clutch provided between gearbox and feed screw.

Rolls drive through twin shaft gearbox with speed drive unit coupled to it using coupling, which ensures synchronization of the rolls with s steady torque loading.

Pre-densifier screw comprises of cylindrical or conical shape, which is well polished and made of AISI SS-304 quality material.

Compacting rolls sleeves are made out of Alloy steel, hardened to 55 HRC approximately and are keyed in to shafts and thus protected against axial slipping by thrust plates and bolts.

The feed screw assembly can be lifted by hand-operated hydraulic pump. This facilitates ease in cleaning.

Scrapper assembly also designed to dismantle for ease of cleaning.

Pre-compression chamber guides the powder without any slippage or leakage.

Control panel with swing arm consisting of ON/OFF Push Buttons, Forward/Reverse switch, Ammeter, RPM indicator for roll and feed screw, speed regulator for feed screw and emergency stop with all safety measures are provided. Extra power control panel is fitted on the machine with main switch.

Machine supplied with corrugated roll surface as Standard.
Why to compact?
To increase bulk density

To achieve uniform particle sizes

To improve solution and dispersion rates

To achieve better granulation of sieve analysis

To reduce process cost

To control the production of dust

To produce uniform blends or mixture
Optional Features :
Water jacketed design for extremely heat sensitive products

SS 316 made pre-densifier screw

Flame proof motor

Roll Surface – smooth / knurled and briquetted.
Technical Specifications:
MODEL

RC-200/50 (PLAIN MODEL)

RC-200/75 (PLAIN MODEL)

RC-200/100 (PLAIN MODEL)

Output*

20 to 50 kgs / hour

75 to 100 kgs / hour

100 to 250 kgs / hour

Roll Size

200 mm (dia) x 50 (w)

200 mm (dia) x 75 (w)

200 mm (dia) x 100 (w)

Roll Speed (step pulley drive)

5 to 25 rpm

5 to 25 rpm

5 to 25 rpm

Roll Surface

(a) Smooth (b) Corrugated

(c) Knurled (d) Briquetted

(a) Smooth (b) Corrugated

(c) Knurled (d) Briquetted

(a) Smooth (b) Corrugated

(c) Knurled (d) Briquetted

Feed screw speed (through ac variable frequency drive

10 to 60 rpm

10 to 60 rpm

10 to 60 rpm

Roll drive motor

5 HP / 960 rpm / 415 V /

3 phase / 50 Hz

5 HP / 960 rpm / 415 V /

3 phase / 50 Hz

5 HP / 960 rpm /415 V /

3 phase / 50 Hz

Feed screw drive motor

3 HP, 1440 RPM, 415 V,

3 PH, 50 HZ

3 HP, 1440 RPM, 415 V,

3 PH, 50 HZ

3 HP, 1440 RPM, 415 V,

3 PH, 50 HZ

Overall dimensions (in mm)

1060(W) x 1160(B) x

2030(H)

1060(W) x 1160(B) x

2030(H)

1060(W) x 1160(B) x

2030(H)

Net weight

1500 Kg

1500 Kg

1500 Kg

Case Dimension

1420 x 1520 x 2280 mm

1420 x 1520 x 2280 mm

1420 x 1520 x 2280 mm