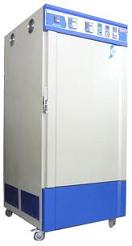 click on picture to zoom
share this product link
Humidity Control Ovens are developed as a result of intensive innovation. The ovens confirm to international standards and are manufactured as per GMP regulations.
ICH Guidelines :
Stability Chambers are designed specifically to meet ICH guidelines for general stability testing of new drug substances and products as per Q1A (R), for long term intermediate and accelerated testing.
IQ, OQ, PQ & DQ :
Provides protocols for Installation Qualification (IQ), Operation Qualification (OQ), Performance Qualification (PQ) and Design Qualification (DQ) with MOC and SOP.
Calibration and Validation :
Calibrates the chamber and provides certificate with traceability. Also assures the uniformity in the chamber and complies to as per guidelines.
Construction :
The unit is a double walled, with exteriors made of mild steel, finished with powder coated epoxy paint. (optional-exterior made of stainless steel). Interiors made of stainless steel. The unit has glass wool insulation with full length inner glass door with latch. The outer door is a double walled metal door with magnetic gasket and lock. The unit has perforated adjustable and removable stainless steel trays, with forced air circulation for uniform temperature. The unit rests on castor wheels for easy movability.
Heating and Cooling :
The unit has been incorporated with long lasting S.S. tubular heaters with fins for better heat transfer. A hermetically sealed compressor coupled with evaporation coil and fan cooled condenser provides efficient cooling in the chamber. The cooling system is placed at the bottom of the machine for easy servicing. The compressor is safeguarded with time delay circuit.
Humidity :
Humidity is formed by steam injection in the chamber. Humidity formed is non-condensing type to avoid droplets deposition on the samples. For steam formation a boiler tank is provided and connected with water tank (Reservoir). A float valve is provided in the water tank to control the water level.
Sensors :
The temperature of the chamber is sensed by PT-100 sensor measured in "I0;C", with 0.1I0; C resolution. The set and measured temperature is displayed separately.
The humidity in the chamber is sensed by electronic capacitance type senor and measured directly in "%RH" with 0.1I0;% RH. The set and measured humidity is displayed separately.
Control Panel :
The unit will be supplied with front panel at the top consisting of digital display microprocessor based temperature / humidity controller along with PT-100 temperature sensor and RH sensor for humidity control, ampere meter, main ON/OFF switch (MCB) and pilot lamps for all controls.
Salient Features :
Humidity is directly displayed in terms of % RH measured directly by RH sensor.

Acoustic alarm is provided for detecting the temperature / humidity deviation from set value.

Alarms are also provided for boiler water low level and open sensor.

Dual Safety systems has been provided for over temperature in case of malfunction to protect the samples.

Better reliability for its performance
Supply Voltage : 230 Volts, AC 50 Hz
Microprocessor Based Temperature and Humidity Controllers :
Control Panel :
The control panel is a membrane key board provided with digital display selectable indicators. The data mode has the following parameters : 1) Real Time, 2) Date, Month and Year, 3) Temperature / Humidity,4) Print interval duration 10 to 990 mins. 5) Print Mode (on / off line)
(A) Ordering Information
TEMP RANE : 10 C TO 50 ACCURACY : +/- 0.5C.
HUMIDITY RANGE : 40 TO 95% RH ACCURACY : +/-3% RH
MODELS

APACITY

INNER CHAMBER DIMENSION

EXTERNAL DIMENSION

WEIGHT (APPROX.)

TRAYS

Cuft.

Liters

H W D (CM)

H W D CM)

Kg.

NEC 206R10

6

165

70 X 50 X 50

144 X 65 X 93

100

2

NEC 210R10

10

280

90 X 55 X 55

164 X 70 X 98

120

2

NEC 212R10

12

324

90 X 60 X 60

164 X 75 X 103

150

2

NEC216R10

16

440

90 X 70 X 70

164 X 85 X 113

200

3

NEC234R10

34

1000

150 X 80 X 80

210 X 95 X 130

400

4
Centronic Port For Printing Data on Printer :
The unit offer data printing on printer at the desired duration the recording interval can vary from 10 to 990 minutes in step of 10 minutes and can store data upto 3000 readings (If print interval is 30 mins. Then it stores upto 30 days). This enables one to maintain a records of the test as per the requirements of GMP & FDA regulations.
RS 485 Port For Interfacing With Computer
OPTIONALS :-
Temperature / Humidity Scanner 4 Points (auto Validation System) :
The unit can be supplied with a 4- point temperature and 4-point humidity scanner, with PT-100 temperature sensor and electronic humidity sensor. The sensors are placed at the four corners of the chamber i.e. at the upper and lower part of the chamber to know about the temperature / humidity gradient (i.e. self –validation system). The data can be stored in memory. The recording interval can vary from 10 to 990 minutes in step of 10 minutes and can be printed on a dot matrix printer. The data can also be stored in a computer.
Dot Matrix Printer :
The unit can be supplied with 80 columns dot matrix printer with trolley for printing data i.e. date-time, set-temperature, measured-temp, set RH and measured RH.