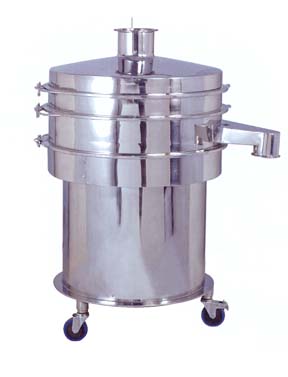 click on picture to zoom
share this product link
Newly improved mechanical sieving unit – 1 and new designed spring action transfers the movement of the particle and tries to move as per the patterns which are formed on the screen. Gradation will take place according to the mesh size of the screens provided.
Mostly Used For : Pharmaceutical powders, cosmetics, Bulk drugs Metal and ceramic product , food products, liquid slurries, paints, granules chips straining of suspended particles from liquid etc.
Sizes Available : 300 mm , 500 mm, 750 mm , 900 mm , 1200mm, 1500 mm in single deck, double deck, triple deck etc.
Advantage : Energy Saving, Maintenance Free, Easy Dismantling and Assembly, No Rubber Parts, Useful for continues Process, Better out put.
Technical Data:
Item

300mm

500mm

750mm

900mm

Motor (H.P.)

0.125

0.25

0.5

0.75

Charging Ht. in mm with Lid (A)

900

1150

1270

1300

Charging Ht. in mm without Lid

800

950

1055

1080

Discharge Ht. in mm (B) & (B1)

B-600

B-1-650

600 &

(970)

730 &

(880)

910 &

(1065)