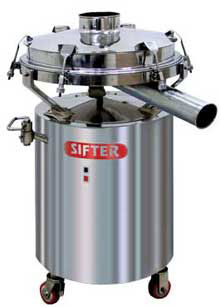 click on picture to zoom
share this product link
Sieves and grade material according to particle size .The amplitude of gyrating Vibration can be adjusted to suit processing needs. Gradation will takes place according to the screen provided.
Mostly used for pharmaceuticals powder granules, pallets etc.
Sizes Available : 500 mm and 750 mm in Single Deck, Double Deck, Triple Deck.
Advantage : Most suitable for precisions graduation of granules and pallets portable.
Technical Data:
| | | |
| --- | --- | --- |
| Item | 500mm | 775mm |
| Motor | 1.5 | 2 |
| Charging Ht. in mm with lid (A) | 1480 | 1550 |
| Charging Ht. without lid in mm | 1280 | 1350 |
| Discharge Ht. in mm (B) & (B1) | 870 | 870 |
| Foundation | Portable | Portable |
| Overall dimension in mm (approx.) | 1000 (L), 1000 (W), 1100 (H) | 1100 (L), 1100 (W), 1270 (H) |
| Net Weight (Approx.) | 290 kg | 320 kg |
| Gross Weight | 390 kg | 430 kg |