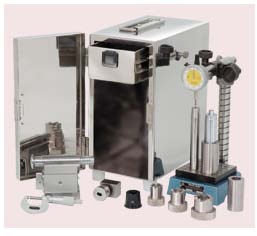 click on picture to zoom
share this product link
Tooling, after prolonged usages are likely to give rise to any of the following problems :
Excessive weight variation.
Tablet thickness / hardness variation
Excessive powder seepage, collar formation
Punch running tight in die. Bending of small punch tips.
If care is not taken in due time, these problems can cause costly breakdown. To co-relate these specific problems with the inconsistencies in the tooling, the following parameters need to be checked with help of this kit.
Working height uniformity of all punches.
Punch tip to die bore clearance.
Punch tip to body concentricity
This Kit can also check Cup Depth & other parameters like Punch Diameters, Die O.D., Die Height etc.
* For more information Pl download Brochure.