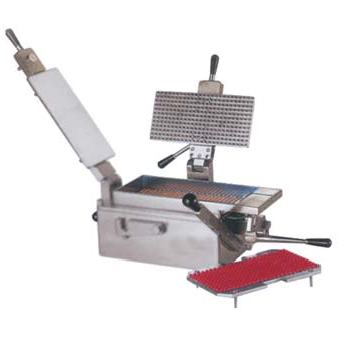 click on picture to zoom
share this product link
This is a most VERSATILE capsule filling machine, suitable for all classes of Pharmaceutical Manufacturers.
Additionally, it has also established its value in the R & D section of large scale Pharmaceutical Companies where it may be used for smaller batched, trail runs and as a standby. The equipment is simple to operate, and gives negligible rejection, with no weight variations.
Model :
300SS - 300 STD (300 holes)
The SS – Stainless Steel Model is fabricated completely from Stainless Steel 304 quality.
In the STD – Standard Model, all contact parts are made out of Stainless Steel 304 quality and non-contact parts are made out of non-corrosive metal duly plated or painted.
Interchangeability :
Interchangeable parts can be supplied for all size capsules. Recommended interchangeability for optimum output : 0/00-0/1/2—3/4/5.
Special features :
Functional design for simplified operation – giving precise results with negligible rejection.
Sturdy, easily movable.
Easily dismantled and reassembled, even by unskilled labour.
All contact parts SS 304 quality and all other parts hard chrome plated.
Excellent cost-benefits ratio.
Output :
55,000 – 60,000 capsules per 8 – hour shift.
Operation :
Fill loading tray with empty capsules.

Place tray in bed.
Operate cam handle to separate capsules cap from body.
Place powder tray in position, fill with accurate quantity of powder and spread with scraper.
Operate pin plate to compress and fill.
Operate lever to lock capsules cap and body.
Remove tray and empty filled capsules.
Technical Specification :
300 – holes
Dimensions : L 410 mm X W 450 mm X H 500 mm
Weight : 45 Kgs.