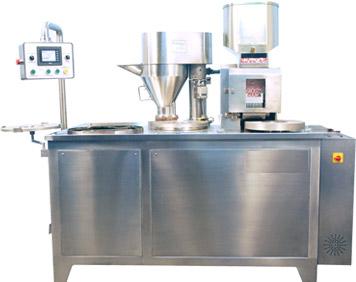 click on picture to zoom
share this product link
Semi Automatic Capsule Filling Machine in our range with an output of up to 25,000 capsules per hour and suitable for filling capsules of all sizes with powder, pellets & granules. It is comparable to the best because of its outstanding features, both functional and mechanical. It's the requirement of cGMP.
Outstanding Features:
Loader gets disengaged automatically after one complete rotation of loading ring.
PLC controlled digital display of all operations.
Auger with four speeds to fill different type of powders & pellets.
Modified design of drug hopper reduces time for dismantling and unloading of powder.
Auto-drug hopper in-feed mechanism reduces weight variations & improves productivity.
Machine is supplied with any one size capsule change parts, 03 nos. extra Augers, Pellets Filling attachment & FRL..
Specification:
MOC of Loading Ring

LM4 Aluminum alloy

Number of holes/Ring

Size 00: 360
Size 0: 480
Size 1, 2: 540
Size 3, 4, 5: 600

OUTPUT

25,000 capsules / hour

Loader Drive

0.25 HP, 380/440 Volts, 3 Ph, 50 Hz

Auger Drive

1.5 HP, 380/440 Volts, 3Ph, 50 Hz

Filling Table Drive

0.5 HP, 380/440 Volts, 3 Ph, 50 Hz

Vacuum Pump / Vacuum

500mm (20") of Hg. At 1000 Ltrs./min. (30 cfm).

Compressed Air

200 Ltrs./min. (8 cfm) at 100 PSI.

Dimension (LxWxH)

1500mm X 1200mm X 1600mm

Approx weight

900 kgs.