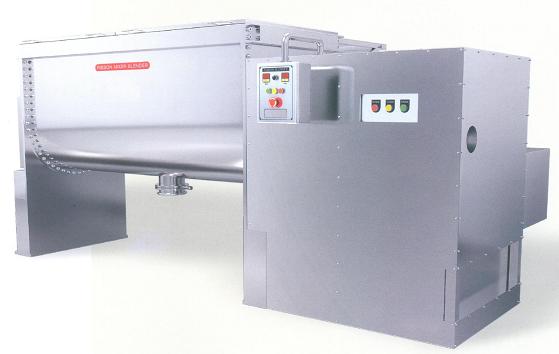 click on picture to zoom
share this product link
The Ribbon Blender does homogenous mixing of powder and granules of different densities. The Blender consists of a Semi-cylindrical shell inside which rotates a shaft welded with spiral inner and outer ribbons.
The outer ribbon blades pushes the material at the centre of the container and simultaneously the inner ribbon blades pushes the material at the either ends of the container.
Ribbon Blenders comprises of curved horizontal ribbon blades that provides easy operation which are mostly used by Chemicals, Plastic, Pharmaceutical, Paints and Food industries. The ribbon blades of different designs are used to suit the need of different materials.
Ribbon Blenders are fabricated in capacities ranging from 50 liters to 5000 liters with material of construction SS 316/ SS 316L.
Mixing is achieved in 15 to 20 minutes.
Optional :
Variable speed drive

Jacket for heating and cooling

PLC controls with HMI touch screen

Explosion proof / Flame proof electrical