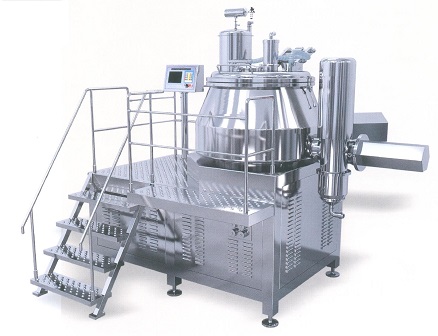 click on picture to zoom
share this product link
The Mixer is designed to meet special needs of tablet manufacturing technology Unique design of Impeller reduces the process time as well as more homogenous mixing also uniformity in granule size It is manufactured maintaining improved hygienic standards within the highest cGMP norms.
Main Impeller:
Main Impeller maximizes micro-mixing of ingredients by effecting optimal diffusion, convection & shears irrespective of varying bulk densities, both during dry & wet mixing.
Discharge:
Empty out the granules from main bowl in shortest time opening the discharge port.
Unique Design of Chopper:
Ensure effective delumping of oversized agglomerates distribution of binder fluid and ideal compaction of granules.
Salient Features:
Different Models are available depending upon capacities
Unique design & constructional features for maximum yield.
Minimum energy consumption.
Flexibility in layout to suite production requirement.
Optional dry blending & wet granulation for high density wet Granulate
Optional WIP & automation to confirm with cGMP norms
WIP, binder feed delivery, powder lodging system optional
Optional standard model/GMP Model / FLP construction
Validation services including comprehensive IQ / OQ / DQ documentation for regulatory compliance.
Operational controls available Electrical / Microprocessor / PLC system.
Technical Data:
Model

Gross Capacity

Working Capacity

Batch Size in KGS

Main Motor HP/RPM

Chopper Motor HP/RPM

Mixer

RPM

Granulator RPM

MG 25

25 L

16 L

5 – 10

3/5HP/750/1500

1/1.5HP/1500/3000

75/150

1500/3000

MG 100

100 L

80 L

20 – 30

7.5/10HP/750/1500

2/3HP/1500/3000

75/150

1500/3000

MG 150

150 L

120 L

30 – 60

10/12.5HP/750/1500

3/4HP/1500/3000

75/150

1500/3000

MG 250

250L

220 L

50 – 100

20/30HP/750/1500

3/5HP/1500/3000

75/150

1500/3000

MG 400

400 L

360 L

75 – 150

30/40/HP/750/1500

5/7.5HP/1500/3000

60/120

1500/3000

MG 600

600 L

520 L

125 – 250

40/50HP/750/1500

5/7.5HP/1500/3000

60/120

1500/3000

MG 1000

1000 L

800 L

200 - 400

63/85HP/750/1500

10/15HP/1500/3000

60/120

1500/3000