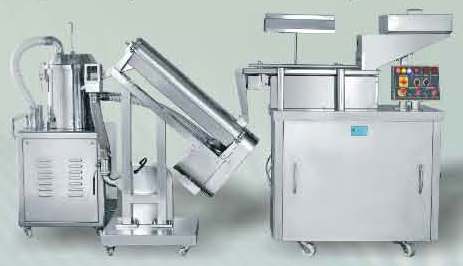 click on picture to zoom
share this product link
The capsule polishing cum inspection machine is designed basically to inspect and polish capsules after powder filling operation prior to final packing. The rotary spiral principal of polishing ensures a high gloss finish even with Hygroscopic powder.
Filled capsules travel from the hopper to THE Vibrating tray and passes through the Inspection belt, which is provided with Light capsules prior to polishing
The capsules travel in a zigzag way on the Inspection belt. While travelling on the Inspection belt S.S. Strips provided on the Inspection belt rotate the capsules. This helps the operator to inspect and sort out the rejected capsules from the Inspection belt. After passing through the Inspection belt, the filled capsule are fed to the spiral brush through a funnel. Filled capsules pass through the spiral brush. The powder is sucked by the vacuum blower attached to the polishing brush.
Interchangeability :
It is recommended to use separate polishing brushes for different products to avoid contamination. Separate polishing brushes can be supplied for different types of powder. Polishing brushes can be interchanged easily.
Unique features :
Output :
35,000 – 40,000 Capsules / hour
Technical Specifications :
Conveyor Belt Drive
0.25 HP, 440 Volts, 3 Phase, 50 Cycles, 1400 RPM
Polishing Brush Drive
1.0 HP DC Motor, 220/180 Volts, 50 Cycles, 1500/1800 rpm
Vacuum Blower
2.0 HP, 440 Volts, 3 Phase, 50 Cycles, 2800 RPM
Vacuum – 150 mm Hg, Pressure – 2.5 PSI, Capacity – 100 CFM
Motor for Empty Capsules Attachment
1.0 HP, 440 Volts, 3 Phase, 50 Cycles, 2800 RPM