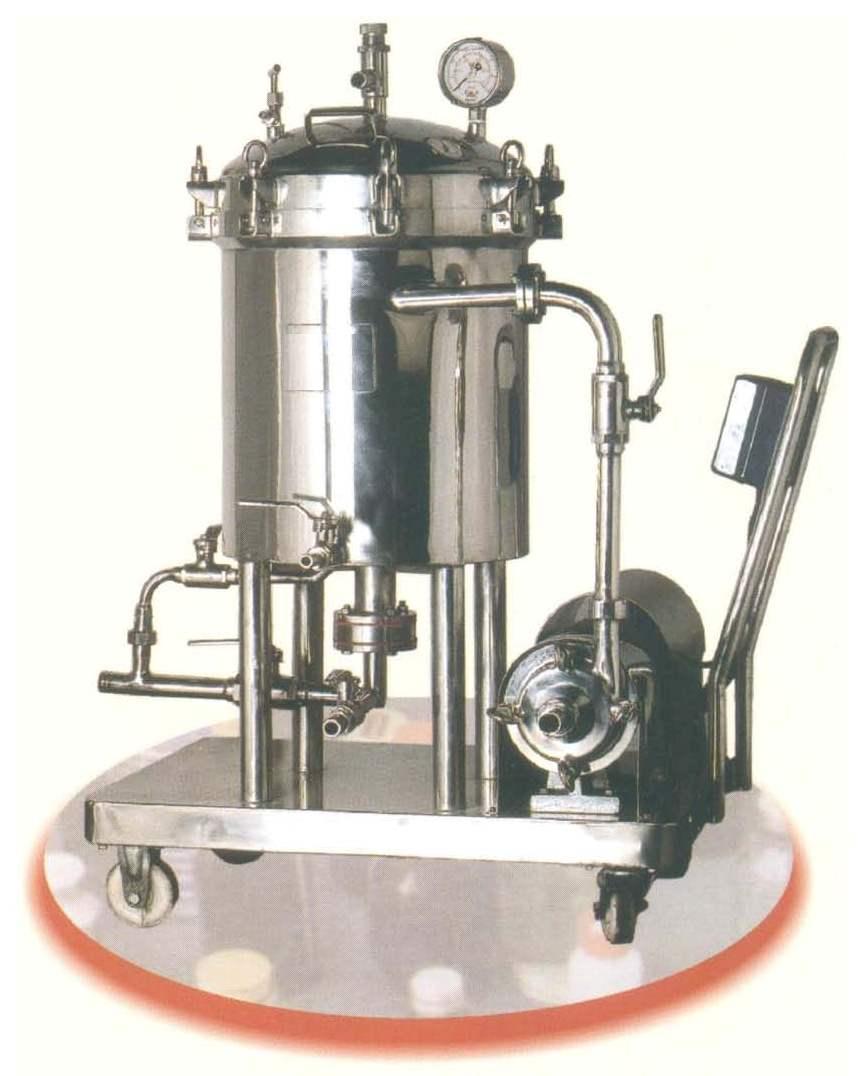 click on picture to zoom
share this product link
Typical Construction :-
Filter Press consists of sturdy 304/316/316L quality stainless steel shell with a top cover held in place with tightening bolts, a filter cartridge assembly consisting of several horizontally arranged disc type filter plates with perforated supporting screens, filter media and interlocking cups. The entire assembly, complete with pump and piping connection, is mounted on a suitable stand fitted with castors for easy movement.
Operation : -
The liquid to be filtered is passed to shell by the transfer pump, where it finds its way to top of plate through circular openings on the sides of plates. As the liquid progresses through the plates and the screens, the filter medial arrest suspensions and allow the filtrate to pass through. Finally the filtrate runs down a central channel formed by the interlocking cups and exits through the outlet pipe. While these filter presses are generally used for obtaining clarified filtrate, cakes can also be obtained in the inter-plate space.
N. B.:
The flow rate is mentioned in terms of water with 5% activated carbon with filter media as polypropylene cloth.
Filtration rates depend on viscosity of liquids, quality of filter pads and nature of sediments in liquids to be filtered.
Scavenger arrangement is not provided for 8 & 33 inches diameter filter presses.
We also offer Candle and Plate & Frame type filtration equipments to suit your requirements.
TECHNICAL SPECIFICATIONS :-
Plate

No. of

Filtering

Cake Holding

Output

H. P.

Size and

Dimensions (mm)

Dia

Plates

Area M2

Cap. Ltrs.

Ltrs / hr.

of Motor

Type of Pump

L

W

H

4"

4

0.022

0.34

90

0.5

1/2" Centrifugal

725

550

625

8"

6

0.209

4.78

600

1.0

3/4" Centrifugal

840

530

840

8"

8

0.275

6.10

750

1.0

3/4" Centrifugal

840

530

890

14"

8

0.746

23.00

3500

2.0

1" Centrifugal

1000

760

1170

14"

10

0.908

28.00

4000

2.0

1" Centrifugal

1000

760

1250

18" D

8

1.198

53.00

6500

3.0

1.1/2" Centrifugal

1120

760

1245

18" D

12

1.840

76.00

8000

3.0

1.1/2" Centrifugal

1120

760

1450

18" S

15

2.276

45.50

10000

3.0

1.1/2" Centrifugal

1120

760

1270

18" S

23

3.418

66.20

14000

3.0

1.1/2" Centrifugal

1120

760

1470

24" S

16

4.640

120.50

15000

3.0

2" Centrifugal

1092

1524

1535

24" S

24

6.500

175.00

25000

5.0

2.1/2" Centrifugal

1092

1524

1750

33" S

7

4.060

120.00

15000

3.0

2" Centrifugal

1300

1300

1680

33" S

10

5.500

170.00

22000

3.0

2" Centrifugal

1300

1300

1850

33" S

14

7.515

230.00

30000

5.0

2.1/2" Centrifugal

1300

1300

2000
D = Deep Plate S = Shallow Plate