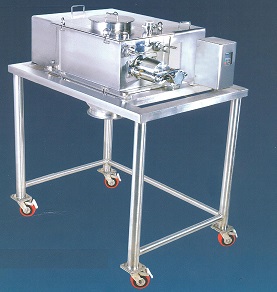 click on picture to zoom

share this product link

Granulation:

Mechanical process in which the product is pressed through a sieve with a specially shaped rotor-arm to obtain a desired particle size. This process results in a narrow distribution spectrum as only the product having the right shape, size & position is broken & passed through the sieve

Features :

· Robust, Simple & Compact design.

· Stainless Steel Construction.

· Easy Installation in Production Line.

· Oscillating Rotor Motion.

· High Output.

· Uniform Granules, Less Fines

· Low noise level as per international norms.

· Maintenance Free

· Easy for Cleaning.

Oscillating Rotor :

The oscillating motion of the rotor improves the granulating process. This sensitive handling of the product emulates the hand operation of an experienced pharmacist.

One important feature of the oscillating granulator is the continuous variation of the speed & force applied to the material. The back & forth motion of the rotor results in an even distribution of the material.
Complete Stainless Steel. All parts in contact with the product in AISI316 / 316L

Inside polished Ra = 0.8 micron, outside ground (grain220)

Maintenance free design, GMP execution

.
Technical Data :
| | |
| --- | --- |
| OUTPUT | Upto 400 kg / hr (depending on product & Sieve) |
| MOTOR | 2 HP 1440 RPM 3 Phase, Coupled with helical gear unit |
| OSCILLATING SPEED | 180 OPM / Variable on request |
| POWER | 1.5 KW |
| WEIGHT | 250 Kg. (without stand) 300 Kg. (with stand) |