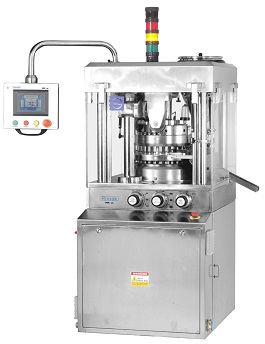 click on picture to zoom
share this product link
Description :
Pilot scale tablet press with maximum capacity upto 118,800 tablets / hour* manufactured to meet the strict guidelines of camp.
It is the most compact, easy to use, yet equipped with most advance features, it can maintain production and quality records, store recipes, manages level passwords and alarm logs. It is available in three variants:
¨ Standard ¨ Multi Tooling ¨ Sense Force Instrumentation Monitoring System
Salient Features
ELNP Turret and Upper cam tracks

HOS : Hydraulic overload system

Pre-compression for difficult/ fluffy/ fine granule compression

Front control knobs-depth of fill, tablte thickness, pre-compression.

Touch screen control : an integrated swing arm control panel with colour touch screen.

MMI display critical professes parameters and offers a simple and user friendly control environment

Nickel plated turret, cam tracks for longer life against wear and tear, camp feature

Safety features : Interlocking for upper and lower guards, audio visual alarms ensuring maximum safety and timely attention
Optional Features :
Hygrospray technology ( for effervescent tablet)

Lower punch keyway for break line / embossing alignment

Core rod arrangements for polo type tablet

Printer compatibility.

Three piece stainless steel turret ( Die Plate – S.S.316)

CE certification

Multi-tooling turret

Anti Vibration mounts

IQ, OQ, DQ documents and test certificates provided on requirement

.
Technical Specifications :
Model

PC -20

PC - 27

PC - 33

No. of station

20

27

33

Tooling

D

B

BB

Tablet Diameter (max.)in mm

25

16

13

Depth of fill (max.)

20

17

15

Tablets/Hr. (Max.)*

72000

97200

118800

Turret RPM (max)

60

60

60

Max. compression in ton

10

6.5

6.5

Electric Motor

5 H.P., 1440 RPM, 415 V AC, 50 HZ, 3 Phase

Force feeder motor

0.25 HP, 230 V, 35 RPM, 3 Phase

Machine size in mm.

742 × 920 × 1858

Net weight in Kg.

1600

Gross weight in kg.

1900

Case size in mm

1295 × 1219 × 1981