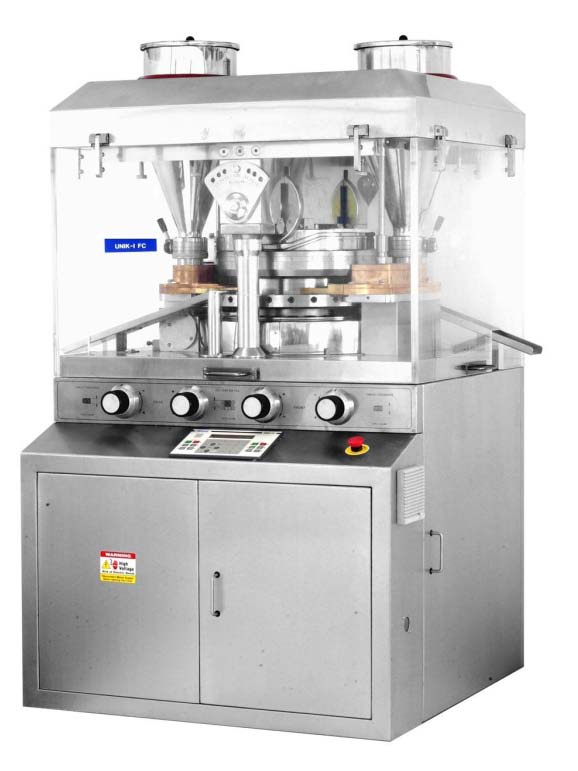 click on picture to zoom
share this product link
Front control double rotary tablet press capable of churning out maximum 2,59,200 tablets/hour. The robust construction of the machine ensures smooth running even at high speed. FC is available in 'D', 'B' and 'BB' tooling. It is equipped with all mandatory safety features, built ergonomically to make it an operator friendly machine. The turret is made from special graded casting with innovative design. As a special feature, the machine is equipped with auto lubrication with timer and metering cartridges.
Salient Features :
ELNP Turret and Upper cam tracks
Front controls: Four easy to use knobs to control tablet thickness and tablet weight of both the sides.
Auto lubrication: HMI PLC can control intermittent lubrication of parts such as turret, pressure rollers and lower cam tracks.
Upper punch penetration: to change the compression zone to suit the product requirement or use die to its fullest depth.
Gravity feeding Machine operation with HMI (through PLC) Contact Parts SS 316.
Optional Features :
Force feeder
Double layer attachment
Core rod arrangement for polo type tablet
Lower punch keyway for break-line/embossing alignment
SS Three piece turret
CE certification
Anti Vibration mounts
10 H.P. motor for special applications
IQ, OQ, DQ documents
Technical Specifications :
Model

FC -27

FC - 35

FC - 45

No. of station

27

35

45

Tooling

D

B

BB

Tablet Diameter (max.)in mm

25

16

13

Depth of fill (max.)

20

17

15

Tablets/Hr. (Max.)*

155520

201600

259200

Turret RPM (max)

48

48

48

Max. compression in ton

10

6.5

6.5

Upper punch penetration

1.5 - 8 mm

Electric Motor

7.5 H.P., 1440 RPM, 415 V AC, 3 Phase

Force feeder motor

0.25 HP, 230 V, 960 RPM, 3 Phase

Machine size in mm.

1024 × 1024 × 1800

Net weight in Kg.

1600

Gross weight in kg.

1950

Case size in mm

1626 × 1321 × 2057